IBPS Clerk Notification 2020: Exam Date, Eligibility, Selection Process, Exam Pattern
IBPS Clerk Notification 2020:  The role of an IBPS Clerk or Junior Associate is one of the most sought after careers in the banking field. The Institute of Banking Personnel Selection (IBPS) conducts the recruitment of eligible and dynamic candidates for the post of Clerk. Every year lakhs of applications are received by the IBPS. One of the best parts of the recruitment process of an IBPS Clerk is that it a 2-tier process comprising of Prelims and Main Online Exam with no Interview.
Successful candidates are appointed in the clerical cadre in multiple Public Sector Banks across the country.  Banking is seen as a desirable and prestigious career with a sense of security of the job.
The article provides detailed information for IBPS Clerk Notification 2020.
IBPS Clerk Notification 2020
As per the IBPS Calendar 2020, the notification for the IBPS Clerk 2020 will be out in the month of October-November 2020. The IBPS Clerk Exam takes place in the month of December. The Exam will be held in two stages:
IBPS Clerk Prelims
IBPS Clerk Mains
Appearing for the IBPS Clerk gives an opportunity to those candidates who could not be successful in the SBI Clerk Exam. By going through this article you can prepare well in advance to appear for the IBPS Clerk Exam 2020-21.
IBPS Clerk Vacancy
IBPS releases a large no. of vacancies each year. For IBPS Clerk 2019-20, the no. of vacancies was 12075. So, this year as well, bank job aspirants can hope the vacancy trend to increase further. If you look at the trend that is given below, you can observe a gradual rise in the no. of vacancies for IBPS Clerk.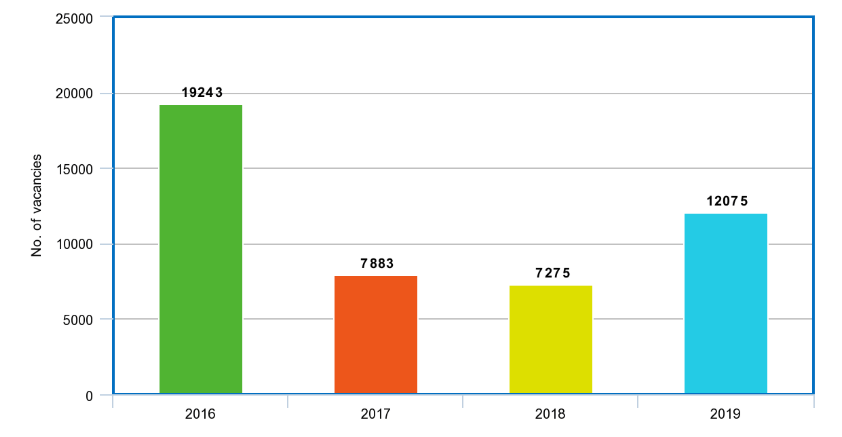 IBPS Clerk 2020: Important Dates
Candidates must note the Application Date, Exam Dates and Last dates regarding IBPS Clerk 2020.
IBPS Clerk 2020-21: Important Dates

IBPS Clerk Events
Dates
IBPS Clerk Notification 2020 Release Date
September 2020
IBPS Clerk Online Application Starts From
September 2020
IBPS Clerk Online Application Ends On
October 2020
Download of call letters for IBPS Clerk Pre- Exam Training
November 2020
IBPS Clerk Online Pre-Exam Training Date
November 2020
IBPS Clerk Prelims Exam Date
12th, 13th & 19th December 2020
Result of IBPS Clerk Preliminary Exam
January 2021
Download of Call letter for Online Exam – Main
January 2021
Conduct of Online Examination – Main
24th January 2021
Declaration of Final Result
1st April 2021
IBPS Clerk 2020: Eligibility Criteria
Following is the criteria for educational qualification and Age Limit as per IBPS Clerk Notification.
Educational Qualifications:
A Degree (Graduation) in any discipline from a University recognised by the Govt. Of India or any equivalent qualification recognized as such by the Central Government.
The candidate must possess valid Mark-sheet / Degree Certificate that he/ she is a graduate on the day he/she registers and indicate the percentage of marks obtained in Graduation while applying online.
Computer Literacy
Operating and working knowledge in computer systems is mandatory i.e. candidates should have Certificate/Diploma/Degree in computer operations/Language/ should have studied Computer / Information Technology as one of the subjects in the High School/College/Institute.
Proficiency in the Official Language of the State/UT (candidates should know how to read/ write and speak the Official Language of the State/UT) for which vacancies a candidate wishes to apply is preferable.
Ex-Servicemen who do not possess the above civil examination qualifications should be matriculate Ex Servicemen who have obtained the Army Special Certificate of Education or corresponding certificate in the Navy or Air Force after having completed not less than 15 years of service in the Armed Forces of the Union as on 09.10.2019. Such certificates should be dated on or before 09.10.2019.
Age Limit
Minimum age limit: 20 years
Maximum age limit: 28 years
A candidate must have been born not earlier than 02.09.1991 and not later than 01.09.1999 (both dates inclusive)
Age Relaxation: As per IBPS Rules
IBPS Clerk Application Fee
The category wise fee structure for IBPS Clerk Online application form is given below. The application fee must be paid online.
| Sr. No. | Category | Application Fee |
| --- | --- | --- |
| 1 | SC/ST/PWD | Rs.100/- (Intimation Charges only) |
| 2 | General and Others | Rs. 600/- (App. Fee including intimation charges) |
Please note that the Fee/Intimation charges will not be refunded once paid nor can it be held in reserve for any other examination or selection.
IBPS Clerk 2020: Apply Online
Link for IBPS Clerk Online Application Form 2020 will be updated with the release of the application forms. One can hope the application forms for IBPS Clerk 2020 be available from September 17 – October 9, 2020 tentatively. It is advisable to keep a valid e-mail id and contact no. till the time of the final selection for further correspondence.
IBPS Clerk 2020: How To Apply Online?
The IBPS Clerk Application Form is applied in two parts:
Below are the steps to apply for IBPS Clerk 2020.
Click the given link to Apply Online for IBPS Clerk 2019
Register using personal credentials, Phone number and email ID
Fill in the personal details and contact details to complete registration.
After successful registration, you will receive a registration ID and Password
Login with registration ID and Password and Verify using Captcha
Click the Login Button and fill the details and complete the application form.
Pay the required application fee online.
Save the completed application form and keep it for future reference
Candidates must be vigilant about the starting date of application and must ensure completion of the application before the last date. Only complete application is required to submit the IBPS Clerk Online form 2020.
IBPS Clerk Selection Process
 No interview process is required for the selection to the post of Clerk. 100% weightage is given to the result of mains exam result. Candidates who will qualify in Online Preliminary Examination and shortlisted will have to appear for Online Main Examination. This Examination system of IBPS comprises of Common Recruitment Process- Online Preliminary & Online Main Examination.
IBPS Clerk Exam Pattern
The IBPS Clerk Exam will be held in two stages: Prelims and Mains.
IBPS Clerk Prelims Exam Pattern
The IBPS Clerk Prelims Exam Pattern is given below. The Prelims Exam will be of 100 marks of 1 hour duration.
| Sections | No. of Questions | Total Marks | Sectional Duration |
| --- | --- | --- | --- |
| English Language | 30 | 30 | 20 minutes |
| Numerical Ability | 35 | 35 | 20 minutes |
| Reasoning Ability | 35 | 35 | 20 minutes |
| Total | 100 | 100 | 1 hour |
IBPS Clerk Mains Exam Pattern
Candidates who qualify the IBPS Clerk Prelims by clearing the sectional as well as over all cut off  are called for the IBPS Mains exam, which is both qualifying as well as the scoring exam of the IBPS Clerk recruitment. Candidates can check the IBPS Clerk Mains Exam Pattern in the table below:
| Sections | No. of Questions | Maximum Marks | Sectional Duration |
| --- | --- | --- | --- |
| General/ Financial Awareness | 50 | 50 | 35 minutes |
| General English | 40 | 40 | 35 minutes |
| Reasoning Ability and Computer Aptitude | 50 | 60 | 45 minutes |
| Quantitative Aptitude | 50 | 50 | 45 minutes |
| Total | 190 | 200 | 160 minutes |
Note: There will be negative marking for every wrong answer in both Preliminary and Main Examination for which there is a penalty of ¼ or 0.25 of the marks assigned to the particular question.
IBPS Clerk 2020: Syllabus
Generally, the bank examination comprises quantitative aptitude, reasoning and english for the preliminary exam. The mains examination will have general knowledge topics and computer knowledge topics, besides quantitative, reasoning and english.  Another important particular about the IBPS Clerk notification is the Exam Pattern. The Exam pattern will give candidate an idea about the type of questions. sections and marks distribution and scheme.
To check detailed IBPS Clerk Syllabus & Exam Pattern, check the given link:
IBPS Clerk Salary
The minimum Basic Pay for IBPS Clerk is Rs 11,765 while the maximum is Rs 31540. Details of Salary, Growth and Promotion is described. Check the given link.
IBPS Clerk Admit Card
The admit card for IBPS Clerk Prelims Exam will be released 10 days before the exam date. The Amit card for IBPS Clerk is released separately for the Prelims and the Mains Exam. The updates regarding the Admit card will be provided too.
IBPS Clerk Pre-Exam Training
IBPS arranges a pre-examination training for SC/ST/Religious Minority Community candidates at certain centres. The provision of availing the training is there for all the candidates. This may be done by indicating the same against relevant column while applying online. Below is the list of centers for Pre-exam training:
North Zone Centers: Agra | Allahabad | Amritsar | Bareilly | Chandigarh | Dehradun | Gorakhpur | Jammu | Kanpur | Karnal | Lucknow | Ludhiana | New Delhi | Patiala | Rohtak | Shimla | Varanasi
South Zone Centers: Bengaluru | Chennai | Coimbatore | Gulbarga | Hyderabad | Kavaratti | Kochi | Madurai | Mangalore | Mysore | Port Blair | Puducherry | Thiruchirapalli | Thiruvananthapuram | Vijaywada | Vishakhapatnam
East Zone Centers: Agartala | Balasore | Behrampur (Ganjam) | Bhubaneshwar | Dhanbad | Guwahati | Hubli  | Kolkata | Muzaffarpur | Patna | Ranchi | Sambalpur | Shillong | Siliguri | Tirupati
West Zone Centers: Ahmedabad | Aurangabad | Bhopal | Indore | Jabalpur | Jaipur | Jodhpur | Mumbai | Nagpur | Panaji (Goa) | Pune | Raipur | Rajkot | Vadodara
Candidates who select pre-examination training, should download their call letter for training by entering their registration number and password/ date of birth from Bank's website.
IBPS Clerk Result 2020
The IBPS Clerk Result is released separately for each of the stages of the Exam.  The final state wise merit list and category wise merit list shall be prepared in descending order of the marks secured by candidates in their online mains examination. Candidates who fall in the prescribed merit list will then be considered for appointment for the post of clerk in Banks.
IBPS Clerk Cut Off
The IBPS Clerk Cut Off is an important guide to the candidates, that will decide the final selection of the candidate in the exam. The cut off will be out along with the exam result. However, cut-off can be predicted from the previous year exams.
The exam dates and admit card details will be notified soon. Candidates are requested to stay updated with the website for latest notifications.
IBPS Clerk 2020: FAQ's
Q1. When will the IBPS Clerk Exam be conducted?
Ans. The IBPS Clerk Exam will be conducted on 12, 13 and 19 December 2020.
Q2. What is the process of selection into IBPS Clerk Exam?
Ans. The candidates will be selected on the basis of two stages: Prelims and Mains Exams. However, the marks secured by the candidates in the Mains Exam will be taken for final selection.
Q3. Can final year students appear for the exam?
Ans. Yes, final year students can appear for the Exam. But they will have to produce the marksheet on the date of document verification.
Q4. In which language will the question paper be set?
Ans. The question paper will be bilingual, i.e. in English and Hindi. However, in case of English paper, the language will be only English.
Q5. Will there be any negative marking in the exam?
Ans. Yes, there will be a negative marking of 0.25 for every incorrect answer in the IBPS Clerk Prelims and Mains Exam.
Q6. Will there be any sectional cut-off?
Ans. Yes, there will be sectional cut-off as well as an overall cut-off as well.
Read this also…,
BSSC 1st Inter Level Exam 2014 Online Form 2020 (Last Date Extended Again)
Bihar SHSB ANM Recruitment 2020 – 865 Vacancies Open (Last Date Extended)
RPSC Veterinary Officer Admit Card 2020 (Postponed)
OSCB Recruitment 2020 – 786 Vacancies Open (Last Date Extended)